Welcome to the Feelgood Lodge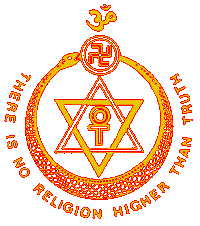 Man on the Run
Women are Catching Up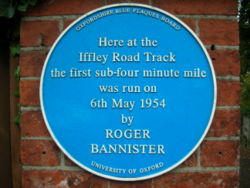 Plaque at the Iffley Road Track near Oxford
to commemorate Roger Bannisterís 4 minute mile.

Roger Bannister
On May 6th 1954, Roger Bannister was the first runner to break the 4 minute mile barrier although he didnít do this in an actual race. He was carefully paced by fellow runners Chris Chataway and Chris Brasher.
This was a tremendous achievement and is well documented and the run still gets shown on television. Roger Bannisterís time was
3 minutes 59.4 seconds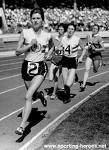 Diane Leather
Less well publicized (in fact hardly known about at all) is the breaking 23 days later on May 29th of the 5 minute mile record for women by British runner Diane Leather with a time of 4 minutes 59.6 seconds.
BUT
Women are catching up
Look at this;
The current menís world record for the mile is 3 minutes 43.13 seconds, set by Hicham El Guerrouj of Morocco on July 7, 1999.
The current womenís record is
4 minutes 12.56 seconds by Svetlana Masterkova of Russia, set on August 14, 1996.
Thankyou for visiting the Feelgood Lodge
______________________
An independent Theosophical Republic
Worldwide links to FREE online
Courses, Writings, Commentaries,
Cardiff Lodgeís Instant Guide to Theosophy
Blavatsky Calling and I donít wanna shout
The Spiritual Home of Urban Theosophy
The Earth Base for Evolutionary Theosophy
Try these if you are looking for a local group
UK Listing of Theosophical Groups
Worldwide Directory of Theosophical Links
Blog Links
http://london-underground.blogspot.com
This site is a directory of weblogs written by
people who live or work in London, organised
by the rather iconic London Tube map (and also
the central London suburban rail network,
docklands light railway and Croydon tramlink)
http://londonbloggers.iamcal.com/
Feelgood Theosophy is represented
At Finchley Central Station on the